How to Sew a Corset in Just 3 Hours?
Before sewing the corset, you will first of all need to print out the set of patterns enclosed with the course book.
CLICK HERE TO DOWNLOAD THE PATTERNS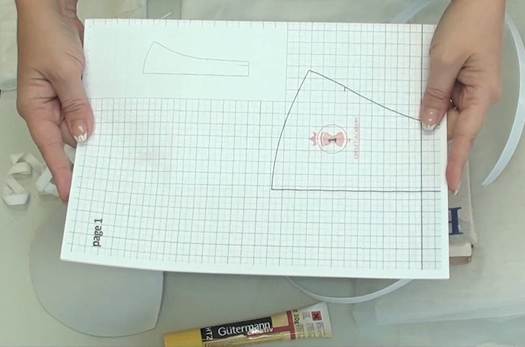 You will also find enclosed a diagram with guidelines for gluing the pattern sheets together.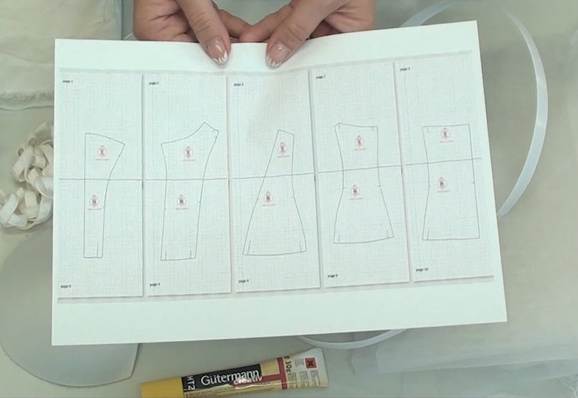 Materials Required for Sewing the Corset.
I will use synthetic see-through mesh for the corset. It is also known as "corset mesh fabric."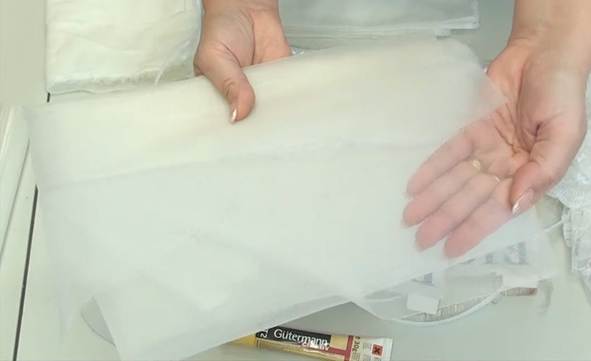 Beside that I will also need a not so large piece of lace (about 40cm long). You can feel free to choose either thin or dense lace, or simply use bits of lace left after making other garments.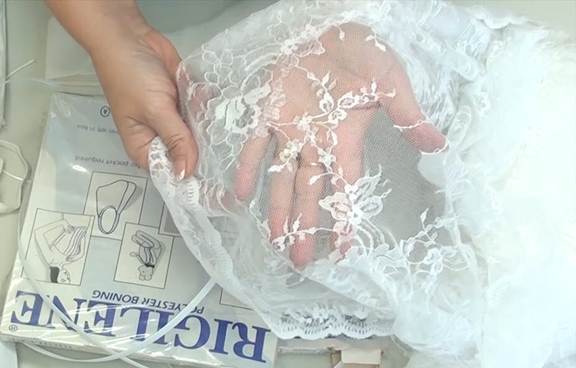 You will also need narrow (0.8cm) and wide (1.2cm) Rigilene bones. 0.5cm and 1.0cm wide bones will also do.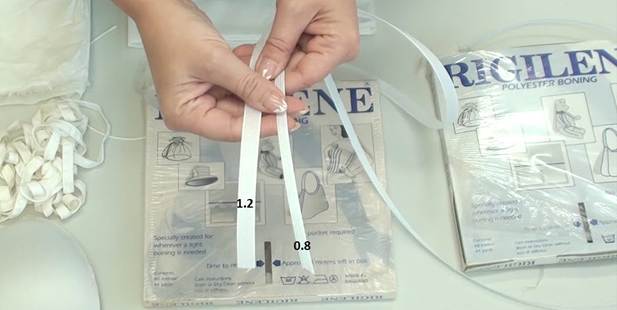 Additional plastic bones or metal spiral bones will make your corset more robust.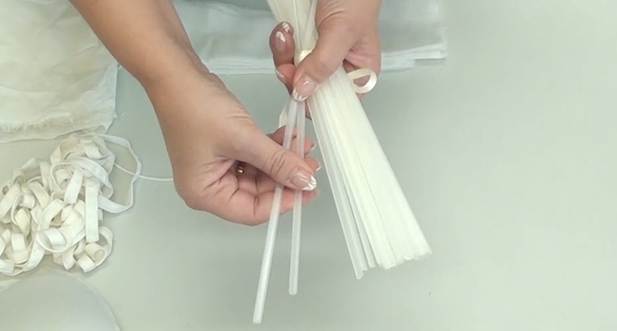 You will also need a pair of cups. Their type depends on your client's preferences. I will demonstrate the principles of working with cups as such and you will then choose cups of an appropriate configuration for your garment. You can trim the cups at the top and give them any shape you like.
Bra cups are available in various styles: cups with push-up pads, cups with space for attaching shoulder straps, thin cups without push-up pads (similar to those used in swimsuits), etc. You can always choose a matching colour, too. For example, you can purchase black cups if you want to sew a black corset instead of a white one.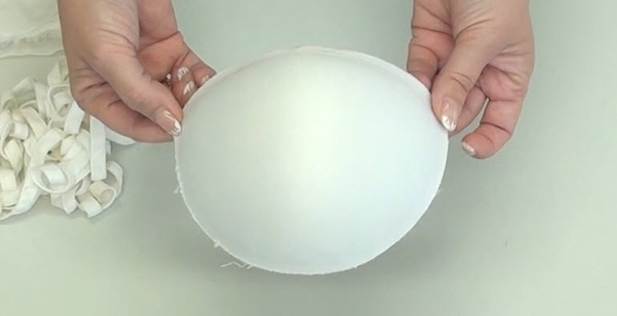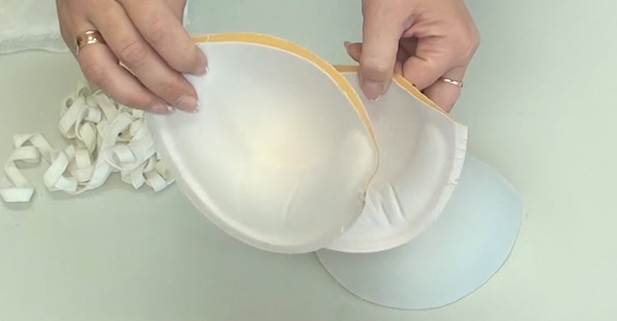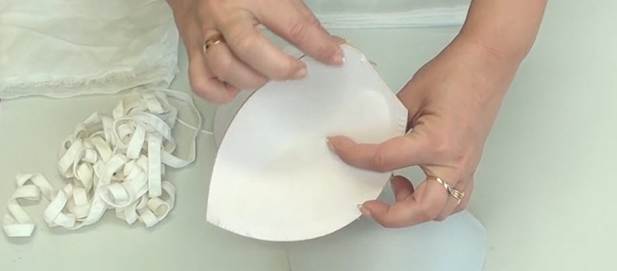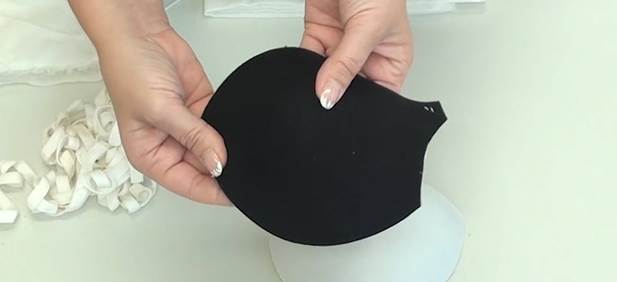 In addition, you will need some bone casing for inserting metal underwires into the cups. Bone casing is special-purpose bias tape usually sold per meter.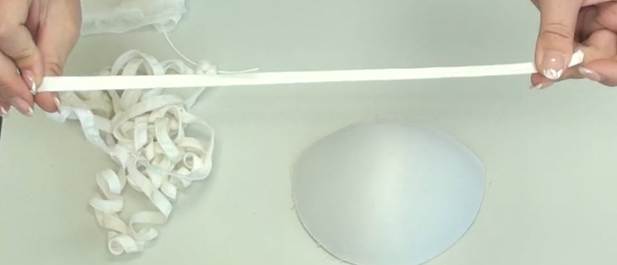 Metal underwires: these semi-circle bones need to match the shape of your cups. The underwire is supposed to be shorter than the bottom arc of the cup: by 1.5-2.0cm from each end.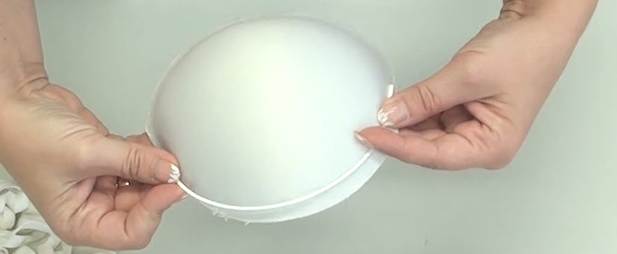 You will need a small piece of iron-on batiste to reinforce the lacing bars. Feel free to use bits of fabric left after cutting your previous garment.

Grommets for lacing the corset: I use standard grommets with a diameter of 0.5cm. You can choose a matching colour, too. Matching washers are another compulsory element for setting grommets.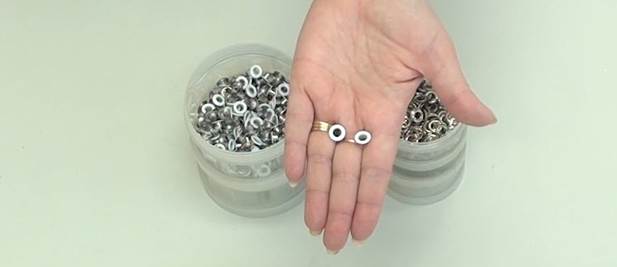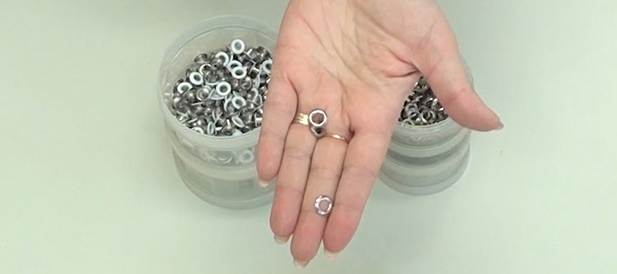 Gutermann glue: I will use it for decorating the garment and for other finishing touches.

Fabric for encasing the bones: I will use regular stretch-satin of a matching colour. It stretches lightly crosswise and it does not stretch lengthwise at all. 30-40cm of stretch-satin with a width of 150cm should be enough.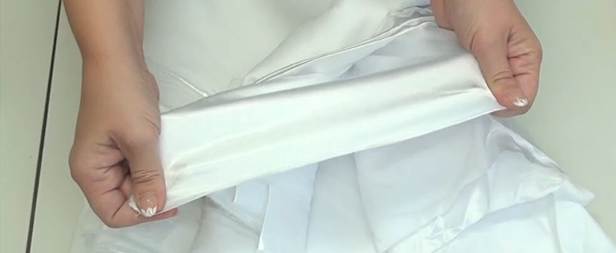 Lace or other decoration materials will also come in handy.

If you have failed to find see-through mesh fabric, you can replace it with two layers of organza or chiffon. That is, if you want to preserve the see-through effect. However if you don't want your corset to be see-through, you can simply use any kind of opaque fabric following the same technique. Just make sure the fabric you choose does not stretch along the waistline.
Working with the Sewing Pattern.
You are supposed to print out the set of patterns and glue them together with the help of the guidelines and a glue stick. Make sure to select "Actual Size" in your printing properties. If your printer happens to leave white borders on the pages, do not try to fix it or trim them. You can check your printing settings by measuring one of the squares on the page. It is supposed to be 1cm by 1cm. Moreover, there is a thumbnail on every page to help you understand what part of the pattern you are looking at.

Of course, you are likely to ask what size the pattern is and how you can adjust it according to your needs. Detailed answers to these questions can be found in my numerous free and paid tutorials.
After you glue together the pattern sheets and cut out the pieces, you are supposed to cut them from fabric and sew a mock-up garment. This involves joining the pieces by sewing the vertical princess seams. You don't need to sew any bones onto the mock-up. You may topstitch the seams to make them stronger. A ready mock-up looks like this: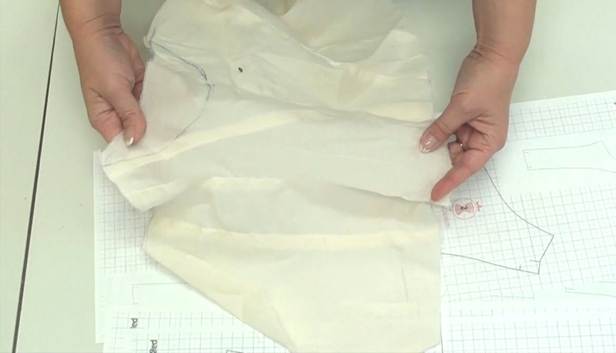 Next, you should pin the cups of your choice right onto the dress-form and put the assembled mock-up on it.
I would like to emphasize it one more time because it is really important: you should use the very same cups you are going to sew into the corset even though you don't know its precise dimensions yet. In this case you will get the actual size value when you measure it along the bust line. And then you will take all necessary measurements off the mock-up along the major circumference lines: the under-bust line, the waistline, the stomach line, and the bottom of the corset. The resulting values are the dimensions of your initial pattern. Afterwards, you should compare the dimensions of the initial pattern with the corresponding measurements taken off your client and adjust the pattern accordingly.
Continue in the eBook "Transparent Corset in Just 3 Hours"
Click here to download it now for free >>
Please tell us where to send your FREE pdf-copy of the book and the corset pattern.