Preparing for the Cutting Process.
Tutorial 1. Getting Acquainted with the Model.
We continue working with the technique used for sewing extraordinary garments: low-back evening or wedding gowns.
Below is a new dress model I have sketched for you.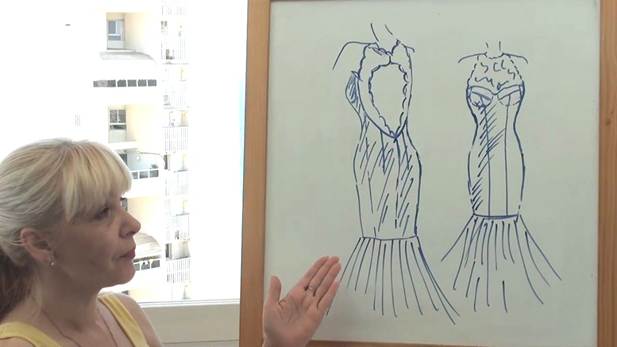 The base of the dress features a low back neckline framed by lace insets. There are sewn-in cups at the front. The top of the dress is halter-neck both at the front and at the back.
I will explain all know-how during the sewing process: there are certain fine points that concern sewing in the cups, altering the pattern, joining the lace pieces with the base of the dress, etc.
This model is really trendy and sought-after today.
I'd like you to notice that this time I suggest making proper individually cut and sewn corset cups – the kind you make for see-through corsets. However you could also use ready-made foam cups if you wanted to. It's a bodice-based dress with a boned front but you could use padding polyester at the top.
There are a number of materials suitable for such dresses – your choice is unlimited. The main fabric can be quite thick or rather thin and two-way stretch.
 Let's get started!