Tutorial 1. Getting Acquainted with the Model.
The corset we are going to sew truly lives up to its name. It's going to be very see-through, made of bobbinet fabric.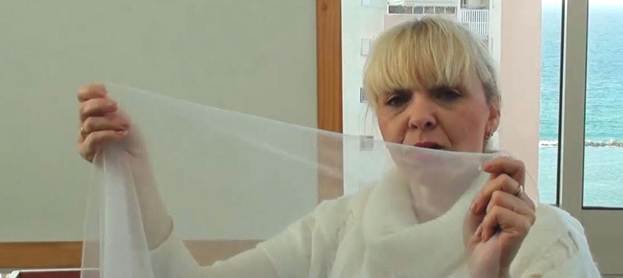 It's not quite the same kind of tulle used for sewing skirts. To put it more precisely, it is totally different. This type of bobbinet fabric is used for bodysuits worn by figure skaters, ballet dancers, and rhythmic gymnasts. It is used for transparent inserts – sleeves, back pieces or individual elements on the bodysuit. This fabric stretches in one direction and is basically non-stretch in the opposite. We are going to use a double layer of bobbinet fabric to ensure better durability. I have heard that one layer is enough since this fabric is tear-proof, yet I prefer to be absolutely confident. I always use a double layer of it and so far I've never had any troubles.
This fabric is see-through. You can see my arm clearly in the picture: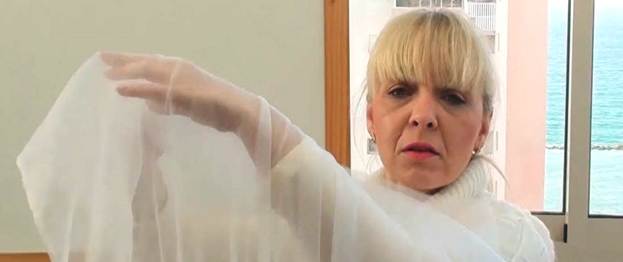 The body of the corset will be made entirely of this fabric. Of course we will cut it in such a way that it will stretch vertically and not horizontally, i.e. not across the waistline. The challenging part is the fact that the fabric does stretch quite a lot vertically and it is thin, which means it might gather during the sewing process. So we shall keep checking the length of all princess seams and comparing it to the mock-up that we'll prepare in advance before sewing the garment.
I still haven't said a word about the model I've designed for you. It is rather sophisticated which is why you find it at the end of the book. I hope that by now you have learnt enough, mastered your skills in practice, and are well-prepared for working on this corset model.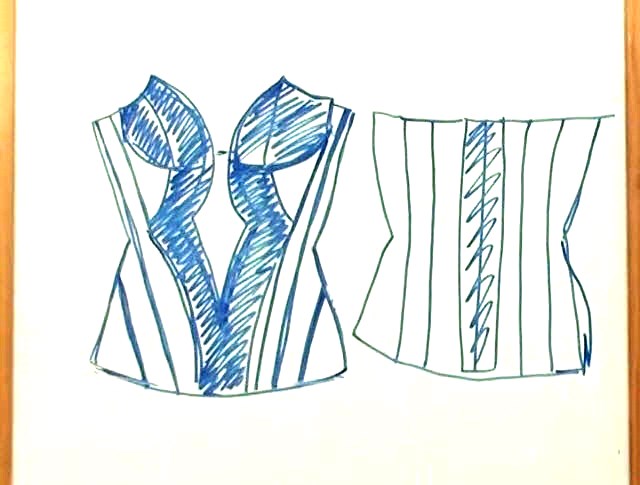 I have filled the opaque parts of the corset with blue. As you can see in the picture, the central part is going to be opaque and have a bobbinet insert in the middle. The lacing bars are also opaque.
The pattern is designed in such a way that bones will be located diagonally at the front.
The corset has a standard back. It is comprised of two pieces: the centre and the side. I will place a vertical bone in the middle of the central piece to simulate a princess seam. This means there will be two princess seams at the back. I believe it's going to look more harmonious since there are several bones at the front and the back should match it.
In the picture below I'm demonstrating the fabric used for the opaque corset pieces. It is a dense elastic material that is also strong enough. I'm going to use its matte side for the face of the opaque pieces and the sheen side for their lining.