Thick Decoration Element.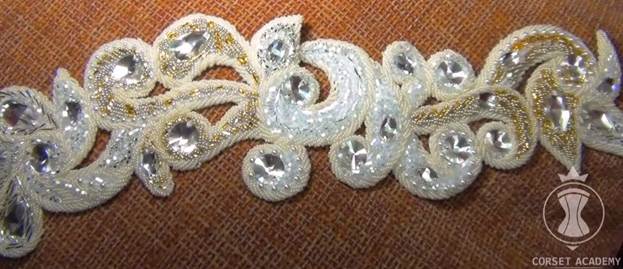 Tutorial 1. Decoration Materials. Creating the Base of the Element.
All required materials are shown in the picture below:
1. Woven interfacing,
2. White biflex fabric,
3. Thin felt fabric,
4. Silver short bugle beads,
5. Ivory seed beads,
6. Faceted beads,
7. Golden long bugle beads,
8. Golden seed beads silver lined inside,
9. Rhinestones (color: crystal),
10. Mounted rhinestones (color: champagne),
11. Tex 45 polyester-linen thread,
12. Fusible web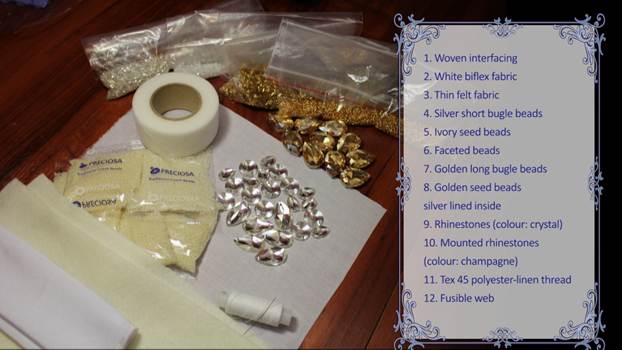 I need to make a base for the decoration element.
The first layer is 1.4mm thick felt fabric. I have cut a sheet of felt fabric in half lengthwise and sewn the halves together with zigzag stitches so as to fit a long appliqué element.

I cover the felt fabric with a layer of woven interfacing: 

Why have I chosen medium-weight woven interfacing? Light-weight woven interfacing won't hold its shape well enough whereas the appliqué is supposed to be stiff.  Heavy-weight woven interfacing, on the other hand, is hard to pierce through with a needle which will make it hard to embroider the piece.
I fuse the layers together with the help of the press iron: first I only let them catch and then fuse them together properly. I check if the layers hold together well enough.

And then I put fusible web over the area where I want to place an appliqué. Paperless fusible web is the best choice for this purpose. I highly recommend using exactly this type of fusible web.

I use white biflex as decorative fabric.

I iron the lay through a piece of thin paper to make sure the biflex fabric does not get damaged when being fused with the woven interfacing.

All layers are fused together very neatly. There is felt fabric from one side and decorative biflex fabric from the other. I put the appliqué in place and trace its contour with a disappearing ink marker.
I have transferred its outline onto the. I will transfer the inner contours later, after cutting out the appliqué and sewing zigzag stitches along its perimeter. I am not doing it now because lines drawn with a disappearing ink marker will be gone before I can embroider them.
I cut out the appliqué.