Tutorial 2.  Cutting a Bodysuit.
I start cutting the bodysuit pieces.
As usual I have prepared the pattern pieces and the fabric for the cups that's already been fused.
Satin fabric fused with iron-on batiste is used for the face and lining of the cups and for the body itself I have prepared some elastic lace. This lace can stretch in all directions; it is very elastic and easy to press.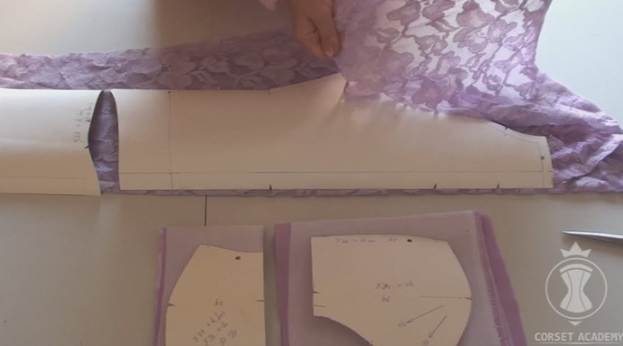 You don't need so much lace for a bodysuit - just about half a meter; I happen to have a lace clipping of the right size. I cut all fabrics crosswise.
I've been quite fortunate because my client's measurements coincide with the pattern and I don't have to alter anything.
I cut out the back pieces right along the pattern outline:

I could have outlined it with chalk or a disappearing ink pen but I have not. Elastic fabric is very supple and it is easy to just cut it out with scissors right along the cardboard pattern. I make relevant notches.
I place the pattern of the front body part at the crease of the fabric and cut it out:

I take a small piece of fabric with a crease and cut out the bottom crotch:

I cut off pieces of hard iron-on fabric big enough for cutting the front and side cup pieces. Then I cut the same pieces out of the lace.
I cut the front cup piece.
I pin together the creases of all fabrics at the same time: I lay down the lace first, then put the hard iron-on fabric over it and place the fused face and lining pieces of the cups on top. I outline the pattern, secure it with pins and cut it out. Notches are necessary to make.

And I cut the side cup pieces exactly the same way: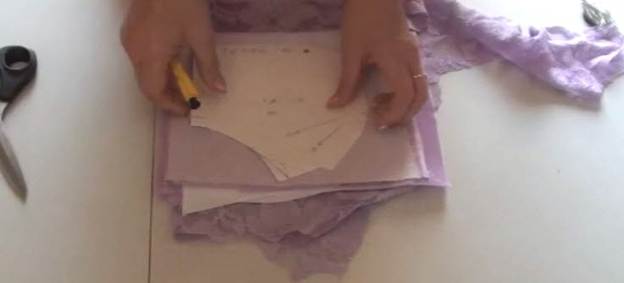 I outline the pattern. If alterations are required, I apply them right on fabric the same way I did for the previous garments. Then I pin the fabric together and cut it out. All notches should also be transferred.
I take all pieces cut out of the hard iron-on fabric and trim unnecessary seam allowances:

I trim the seam allowances by about 0.5 inches. If you can't cut the required amount by sight, you should mark it in advance with a ruler or after the pattern.
I want to make the cups smooth, i.e. there won't be any additional drapery or décor over them. At the same time I want the cups to be smooth and thin enough on the creases when I start pressing them out. That's why I leave all iron-on fabric inside the cups instead of pulling it into the seam allowances.
The same thing should be done with the central part of the cups:

In this picture you can see all cut out bodysuit pieces: