Tutorial 2. Order Form: Personal Data, Order Price, Prepayment.
Let us imagine we are getting started with a certain garment. Suppose you have a client or a relative for whom you are going to sew. At the moment, all you have is a sketch of the desired garment.
Before the sewing process begins, you meet with your client to discuss all details. First of all, you discuss the style of the garment, look through fashion catalogues and pictures from Internet websites, and choose something most appropriate.
Or maybe your client has already visited several bridal salons, tried on several ready-made wedding dresses, made up her mind about the silhouette and other details, and shared her thoughts with you.
In short, you and your client can discuss even the smallest details of the future garment in advance.
I am convinced that it is compulsory for every dressmaker to get a filled-out order form at this very stage to avoid misunderstandings and disagreements in the future. And it does not matter whether you are a self-employed dressmaker or an owner of a large bridal salon or whether you work at home or simply sew for your relatives, friends, and acquaintances from time to time, maybe even for free.
I believe an order form is a must! You must by all means have it filled out!
Let me share some of my personal experience and tell you about the order form I have been using for decades now. It took me a long time to bring this order form to perfection, but today I am fully satisfied with it.
I don't insist that you copy this order form in all its details and do all the things I do, but I think you should find my many years' experience helpful.
As for me, I have my order form books printed at a printing house. They are similar to receipts books where you get an original and two duplicates after filling out a receipt: the original goes to the client, one duplicate goes to my seamstresses, and the other duplicate stays in the book for my reference.
And now I will tell you more about the order form, what it consists of, and how it is filled out.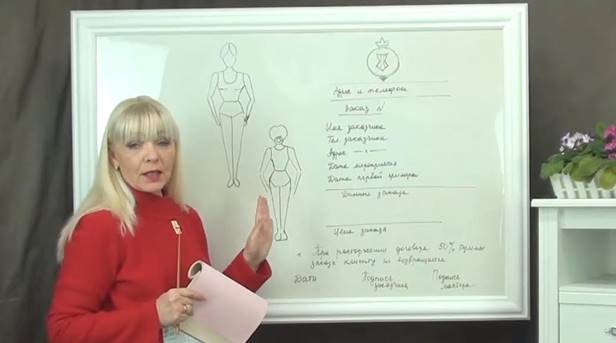 The top right part of the form is supposed to show your logo or company name, your first name, last name, and, of course, your address and phone number. Business cards are a great thing but they are easy to lose whereas an order form is an important document for your client, meaning she will make sure to keep it safe. You should at least staple your business card to the order form. Do not make your client have to search for your contact information. It should be before her eyes as soon as she looks at the form in case she wants to call and ask you a question, etc.
If you decide to use an order form book like I do, remember that every order must have an individual number.
Then, you must fill in your client's personal data: name, phone number, and address.
"Event Date" is a very important line in the order form. Make sure your client informs you in advance.
Looking ahead, I would like to highlight that the filled-out order form must be signed both by you and by the client. In order words, a signed order form is a contract between you and your client! If your client does not specify a particular event date, then you are basically under no obligations. You can work on the garment for as long as you want. But if there is a fixed event date in the order form, you absolutely must have the garment finished by that date.
Relying on my personal experience, I recommend you should put a slightly earlier date in brackets next to the actual event date. This will help you avoid force majeure situations and, besides, one of the duplicates goes to the seamstress and she must finish the garment a little earlier.
The next line in the order form is "Date of First Fitting." This date must be present in the order form. It makes the client feel more disciplined.
This information is followed by order specifications. In my order form, there is a table where you list all components included in the order.
For example:
- Corset – 1 piece;
- Skirt – 1 piece;
- Veil – 1 piece;
- Gloves – 1 pair, etc.
The more thoroughly your order form is filled out, the fewer misunderstandings you will experience in the future.
Another line in the order form is "Order Price." This is a very important moment so I would like to focus on it now.
"How to set order prices? Should the cost of materials be separated from the cost of production?" Very many of you ask this question so let us get it over with.
Let me give you a simple example which, I am sure, you will not forget. Suppose you have come to a confectionery to buy a cake. You are looking at prices for cakes of different types and weight. I believe you will never even think of asking the seller: "And how much was flour, butter, and sugar for one kilo of this cake? And how much do you charge for one hour of work? How much time did the cook spend on making the dough?" Absurd, isn't it?!
It is just as absurd when you divide the order price into "materials" and "work"!
There is a single price, that's all! Make it a rule for yourself and get your clients used to it! And this price is determined by you only! If some client tries to calculate her own price based on costs of materials and costs of production, be sure to share the above-mentioned example with her. Simply ask her whether she asks about the price of nail polish when she goes to a nail salon. There is a fixed price determined by you. You know why you set this particular price, and your clients should not worry about it.
What concerns fabrics, I stopped accepting fabrics brought by clients after my fifths or sixth order.
When you agree to sew with fabrics brought by your client, it will inevitably result in some or other misunderstandings! Most clients have no idea about fabric properties and required quantity, let alone construction and components of their ordered garment. Suppose a client comes with her own fabric. You don't even know exactly what kind of a dress you will be making. And you don't know what will come to your client's mind when she starts filling in the order form. You will have to sign it before you can estimate how much fabric precisely you need.
Another deadly mistake is sending clients to fabric shops so they can choose and purchase all materials themselves (even knowing approximate fabric consumption, etc.). I know it too well that any seller needs to sell! The seller will convince the client to buy the most expensive fabric she can afford, and then it will turn out to be a failure in work! The client will spend lots of money on fabric which will most likely be unsuitable for the given garment, and it is you who will suffer in the end!
I am not talking about one-time situations, such as sewing for family and friends. Of course, you will just shop for fabric together in such cases. In this tutorial, I am mainly addressing those who work with clients.
You should be ready to face some exceptionally demanding clients, too. For example, your client may wish to have her dress decorated with some very special lace that she saw in a certain shop and fell in love with it so much that she does not want to hear about anything else!
Only in cases like this, you may send your client to the shop. But only to purchase this lace, nothing else! Never let her shop for main fabric, lining, or netting used for sewing the garment itself! Your clients better keep their hands away from it! Snaps, hooks, buttons, zippers, Rigilene bones, fusible materials, bias tapes, etc. – none of these are your client's business! Such things are bought wholesale from shops which offer you personal discounts as a regular customer.
So, suppose your client goes to that shop where she saw the lace of her dream. There is no problem today in taking a picture of the lace, the tab with all specifications, the shop sign and address, etc.
After you receive all this information, you can go to the shop yourself and purchase the required amount of lace. Why is it better than letting your client purchase it herself? First of all, you can determine the required amount more precisely after holding that lace fabric in your hands. And then, you will probably have a discount as a commercial buyer. Moreover, you will probably know where to buy the exact same lace for a better price.
You may adjust the order price in such cases which involve working with some kind of exclusive fabric. When you determined your standard price, you naturally accounted for a particular price on lace fabric. If the lace chosen by your client costs about the same, then it will not affect the order price. But if your client's lace is noticeably more expensive, simply add the difference to the order price.
I don't want to focus on pricing policy issues at the moment. This topic is described in the "Basics of Sewing Business" by the Corset Academy.
I believe that every one of you has found or will find a personal formula for calculating order prices.
Let us return to our order form. Once you get decided on the price, you write it under "Order Price."
This means your client should know the exact price of her garment from the moment she submits her order!
Never say to your clients: "Let us agree on this price for now and then see how it goes. Maybe it will be enough, but maybe you will need to pay some extra." This is very bad! Such manner of negotiating points at a lack of confidence, poor competence, and inexperience! And it naturally scares people off.
Prepare to the conversation in advance, think things over, and make sure you can name an order price with full confidence.
Let me reassure beginners here. Do not be afraid of mistakes. You will make mistakes, just accept it! We all go through the same things. Be ready for mistakes during the first year of work! Their number will grow smaller and smaller if you analyze previous errors and think carefully before accepting orders.
Of course, it is easier to accept a mistake if you actually benefited from it. But you will certainly make mistakes that incur losses, too. You should learn to handle such situations with dignity. Do not let it get you down if you set a low price by mistake and had to work a lot more than expected and invest your own materials as the result. Do not cry about those spent resources!
It is your experience, which comes at a price. Your losses will get compensated for after some time.
There is another important payment-related moment which you must account for when accepting orders. I bet you have already wondered what to do if the client decides to cancel the order. It could be caused by a force majeure or she could plainly change her mind.
I consulted my bookkeeper when I was working on my order form and he told me something for which I am grateful to this day. He said: "You are not supposed to suffer just because your client changed her mind! Even if your client's wedding gets cancelled, you are not supposed to not incur financial damage because of this."
And then he recommended I put the following phrase at the bottom of the order form, below the signatures: "In the event of order cancellation made by the customer, 50% of the total order price is non-refundable."
This phrase means that the client will have to pay 50% of the total sum regardless of why the cancellation was made.
Considering that you are responsible for purchasing all materials, I suggest you should always ask for a 50% prepayment to make yourself safe. I always do this!
There is a payment table under "Order Price" in my form. The client is required to make a 50% prepayment at the moment of submitting the order. The received sum is recorded in the payment table as "prepayment" and your client receives a receipt and a till slip.
I never start working on an order before receiving 50% prepayment and I highly recommend you shouldn't do it either. Do not consider the order as submitted until you receive 50% of the total price. You ought not to go and invest your own money in materials for your client's garment without prepayment.
Let me tell you one story from my personal experience. My salon used to be situated on the Dizengoff Street in Tel Aviv. It is a whole street of bridal salons and wedding fashion boutiques. There was a widespread superstition in Israel when every bride had to visit about all salons on this street and try something on before making the final choice of her dress, even if she lived many kilometers away from Tel Aviv.  So, even after choosing some dress in my salon, she could easily change her mind in several days, come back, and say that she wants to order a dress in a different salon, or buy a ready-made dress, or that she no longer needs any dress at all. And what are you supposed to do if you charged no prepayment, wrote no warnings about cancellation fees in your order form, and already purchased materials for her dress? It is a waste of your money because some specific materials may not be suitable for any other order.
Only 50% prepayment and cancellation and refund policy expressed in writing in your order form signed by the client allows you to start working without worrying about such things.
Why 50% prepayment?
It is very simple although I did not plan to focus on pricing policy issues in this book.
The cost of materials usually makes no more than 25-30% of the price. About 30% goes to seamstresses and other staff of the salon. The remaining 40% comprises taxes, other expenses, and your personal profit. Thus, if you have already purchased the materials, you will keep 20% of the total order price even if you cannot use them anywhere else. And if you like the cancelled order, you can use this prepayment to sew the dress for your salon. An extra garment is never a bad thing!
Next, make sure to write the date of prepayment, get your client to sign the form, and then sign it yourself. After doing all this, you can consider the order as successfully submitted!
You will still need to take all measurements, write them in the form, and get your client to sign it as well to avoid misunderstandings. We will talk about it in the next tutorial.