Tutorial 3. Order Form: Client's Measurements.
There is a schematic drawing of a female body in the left part of my order form. Of course, you can make a quick sketch of the garment, front and back, but if your client brought a picture or you made a good detailed drawing together with her on a separate piece of paper, then just staple it to the order form. There might be some changes in the future due to your own recommendations or your client's preferences, etc. For this reason, I don't make any sketches on the order form.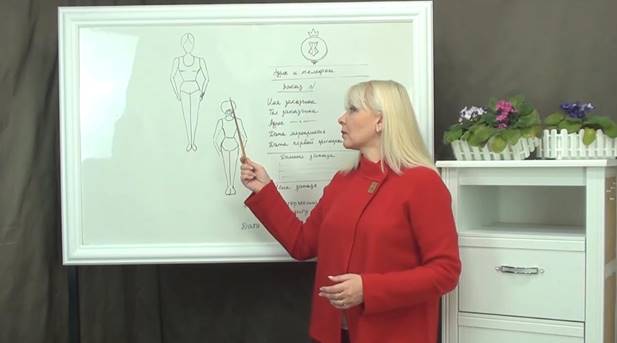 The only thing that must not change during the work process is client's measurements. And I do write them on the female body silhouette in the order form.
As you know, taking measurements is a very important process and the final fit of the garment depends on its results.
There tend to be many distracting factors when you are accepting an order. For example, some clients come over with their children or other family members, or some off-topic conversations may arise spontaneously.
All such things distract you and may cause you to forget to take some or other important measurement. Some dressmakers keep a measurements table before their eyes and go through it to make sure they don't miss anything. But there is a serious disadvantage to measurements tables – they are universal and not made for a particular order and garment. This means you will need to skip certain irrelevant lines.
That, however, increases the chance of accidentally missing a relevant measurement, too.
I have therefore opted for the graphic way of recording client's measurements with all relevant measurement lines marked on the female body drawing. In addition, I keep a sketch of the desired garment before my eyes.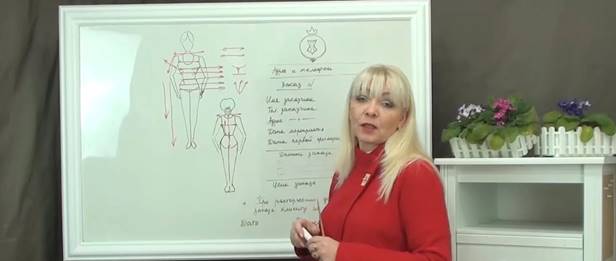 Those lines are circumference lines and lengths, sleeve circumference (for garments with sleeves), shoulder width (if relevant), clip measurements (fork-shaped), crotch length (for bodysuits), etc. And I mark all measurements relevant for the back of the garment just the same way. I write each taken measurement above the corresponding line or next to it. It is very clear and very helpful! But you can always use a measurements table if you prefer.
There is one unbreakable rule: client's measurements must be present on the order form. They must be recorded somewhere and confirmed by client's signature. Sometimes it happens that the client puts on or loses some weight, which obviously affects the fit of the garment in a negative way and you might get blamed for it. In cases like this, you can prove that it is not your fault by demonstrating the order form with all measurements taken at the moment of submitting the order, recorded and signed by the client herself. You can take all measurements again so your client can see that they have indeed changed, so any further adjustments to the garment must be paid for additionally.
Students often ask me what to do with pregnant brides. This is a quite special category of brides, but they are our clients and we definitely ought to work with them!
Here is what I do, and maybe you will find my experience useful. Normally, such brides come to order a wedding dress long before the wedding day. Of course, you accept the order with the regular 50% prepayment. You should discuss all details of the dress with your pregnant client but you should not take any measurements off her because they will have grown absolutely different by the actual wedding day. I never start working on a pregnant woman's dress earlier than two weeks before the wedding. Make sure to mark it on the order form that "Date of First Fitting" is also the date when you will take measurements for the first time. Two weeks is enough to sew a wedding dress as long as you have your work schedule planned in advance.
This is all I wanted to say about the key rules of filling out order forms.