Tutorial 3. Overview of fabrics for tambour embroidery.
The frequent question and the subject of doubt for all beginners is also the selection of fabric for tambour embroidery. I might disappoint some people, but my answer is as follows: you can use almost all fabric for tambour embroidery, even such thick fabrics like drape or felt.
Certainly, we, the seamstresses of wedding and evening fashion, usually embroider on some thin fabrics, mostly mesh fabrics. Therefore, the beginners have some additional questions: is it possible to embroider on stretchable mesh fabric and how it can be hooped? Yes, we can embroider on stretchable mesh and I will teach you that, but I want to warn you: the more elastic mesh fabric and the larger the cells in it are, the more difficult is to embroider!
Thus, I recommend learning embroidery either on organza or on rather elastic mesh. You can embroider some small details for appliques on the future garment.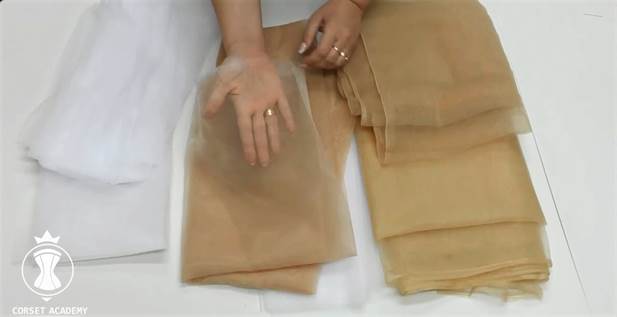 I love to use the Dutch mesh fabric!

This mesh, just like any other mesh fabrics, is certainly stretchable and more stretchable in crosswise direction. Although this mesh is suitable as it is elastic, dense and it has very fine cells. The fine cells are the main advantage of the Dutch mesh as the smaller the cell is, the more convenient is to embroider!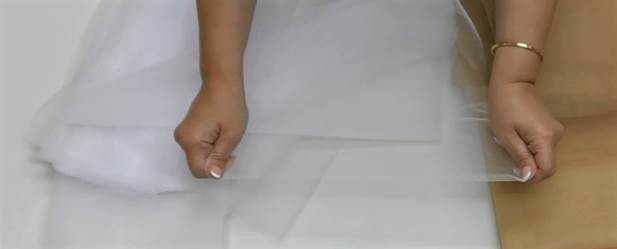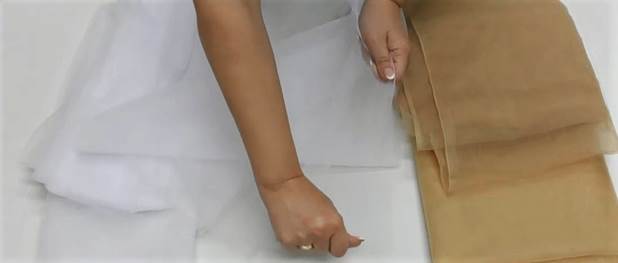 It is also possible to use thinner mesh fabrics, for example, tuille mesh (an analogue of Euro mesh).

This mesh has fine cells just like the Dutch mesh, although it is thinner and softer. It can compete in its tenderness and thinness with illusion mesh. It is stretchable mostly in crosswise direction. I will explain later how to consider the stretch factor of the mesh fabrics when hooping. You can embroider appliques on this mesh and even ready garments, e.g. the tops, if you are experienced enough.
You can see almost similar mesh fabrics on my table. These mesh fabrics like illusion mesh, which are stretchable in one direction. It is also convenient to work with them.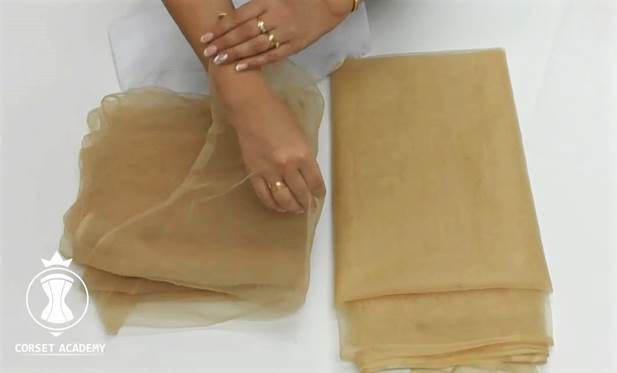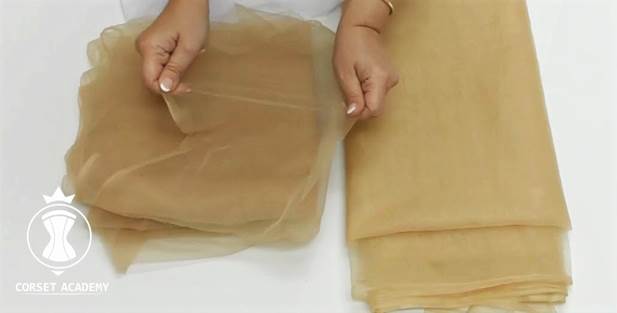 It is possible to use Euro veiling for embroidery. Although, you need to have some experience to work with such fabric. Why? The Euro veiling has significantly bigger cells than the mesh fabric reviewed earlier.
The work on super elastic mesh like illusion mesh is the hardest!
In the photo you can see the white illusion mesh. It is finely grained mesh, which is super elastic in all directions! No matter how much you stretch it, it will continue stretching. Its stretch ratio is incredible!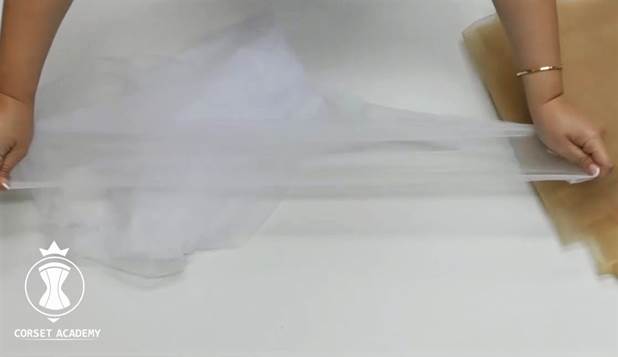 Thus, it will be unclear for the beginners which size the ready garment becomes. Either it will be too loose or super tight, which is not also the best option.
Therefore, even if the illusion mesh is framed into a hoop or a frame, nonetheless it will remain elastic in the center of the hooped piece. You will not be able to stretch it as a drum! You will feel the sagging and movement of the fabric under the hook while embroidering.
Thus, it is possible to embroider on the illusion mesh, but what do we need for that?
Firstly, you need skills and experience! You need to have a complete understanding how and with which stretch ratio to frame the mesh fabric to have a correct size of the ready garment and at the same time to have acceptable stretch of the mesh for the work.
Secondly, you need to embroider on the illusion mesh with the fine Luneville hook #70 or #80! No other hook, neither the American, no the Clover hooks are suitable for embroidery on the illusion mesh!
Despite the fact that the illusion mesh is the most popular mesh fabric in wedding and evening dresses, it is the most difficult for embroidery! If you still want to embroider on it, please bear in mind that it will be extremely difficult for a novice! I would like to warn you beforehand, so that you will not be disappointed!
Now you are well aware what to prepare for and what to strive for!