Tutorial 44. Materials and tools for embroidery.
Therefore, we are close to the finish line and we will start decoration, or to be more exact, we will create beautiful elements for decoration of our dress.
In the photo I gathered almost everything we need.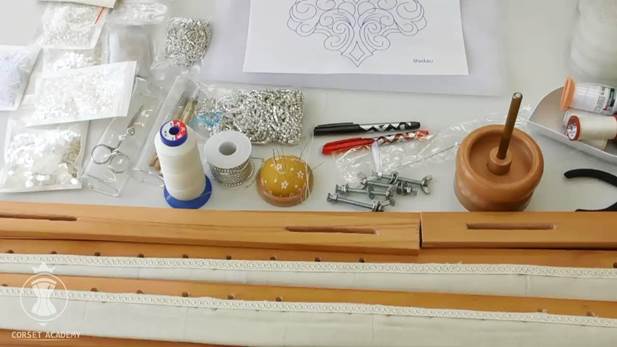 Now let's review in detail.
I will use sequins of various type and size. Transparent with silver coating, white and voluminous decorative sequins, which are hand stitched.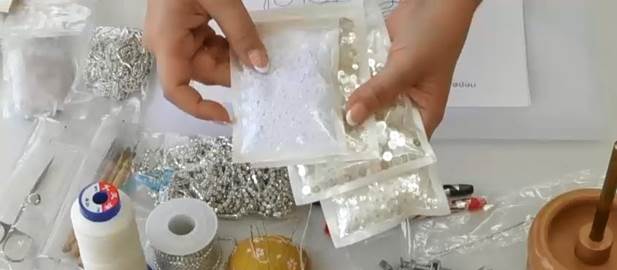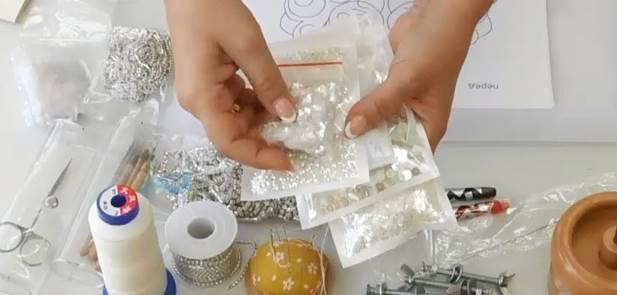 Rhinestone chains. I prepared chains of three sizes: small, middle and large.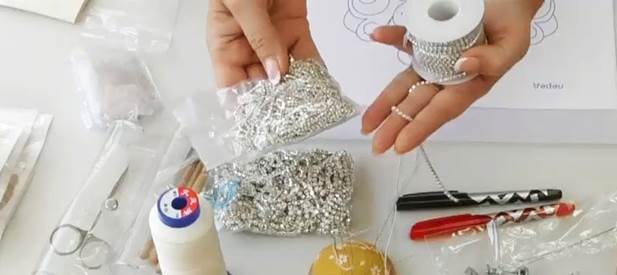 Swarovski crystals. I will use various crystals from small №8 to large ones №20.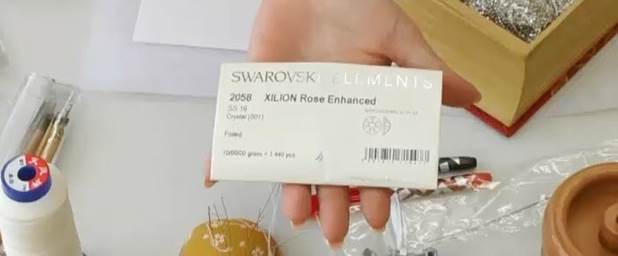 Large decorative stones with sew-on base in the shape of an ellipse or a flower, which are sewn separately with a bead or thread.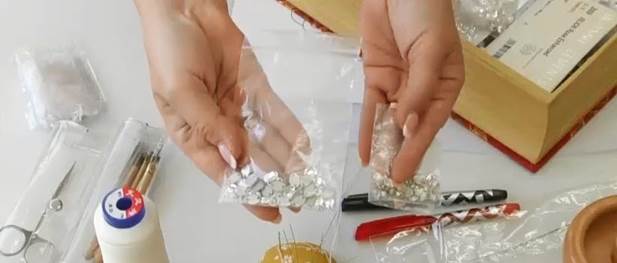 Semi-pearls, rather small, will be glued.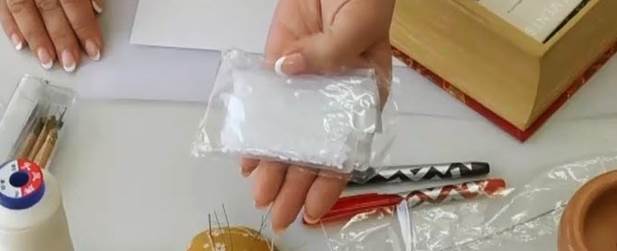 Various beads, seed beads and pearls, transparent and semi-transparent. I will test them before choosing which ones to use.

I will discuss threads in detail as it is the main material in embroidery. 
Most of all I like to embroider with the French threads Emperor. I order them in the French online shop. Here is the link to this shop:
https://www.broderieplaisir.com/les-fils-a-broder/fil-a-gant.html. Besides, you can purchase high-quality Luneville hooks with a handle in this shop. These threads are wonderful for embroidery! They are sufficiently thick, but not coarse and most importantly, they don't fray on the hook.

I also like the German threads «Gutermann» of various thickness.

I also liked to work with the Madame Tricot threads.

You can only determine threads you personally like working with when you try them. Place a cloth into an embroidery hoop, take a few spools of thread, start embroidering with one thread, a second, a third, and determine the optimal one for you. The main requirement is that the thread should be slippery enough, strong and it should not fray. As for me, I can embroider with any thread, but most of all I love the French threads Emperor.
It is good to have plastic containers with nozzles for work. They are convenient to use when working with small materials, especially sequins, when you often need to collect and pour material. Sharp nozzles on the containers help a lot.



Beed needles. Keep them ready as you need to sew something anyways during your embroidery.

Coarse thread. It is convenient to use for fabric framing.

Spinner for beads. The spinner is spun up and a special hook, which comes with the spinner, gathers beads. It is better to use a professional wooden spinner, however if you don't embroider often a cheap plastic spinner will do.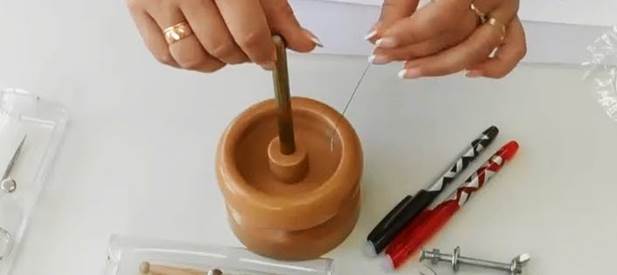 I will use the Luneville hooks №80 and №90 and the Clover hook. The Clover hook is convenient for embroidery of small sequins as unlike the Luneville hook you can place sequins on the face.

Scissors. It is used to cut threads and cut out the finished embroidery motifs.

A very important element is pens for transferring patterns to fabric. These pens are called write-erase. The pattern on the fabric made with those pens disappears under steam from the iron. A regular disappearing ink pen will also come in handy.

The drawing of a decorative element. So far I have printed two elements, for the front and the back of the dress. Let's start by embroidering a decorative back element.


One of the most burning questions: "Where do I embroider?" I will use the mesh made in Holland. The main requirements for the mesh: medium hardness, elasticity or, practically, the absence of stretching, and fairly small cells.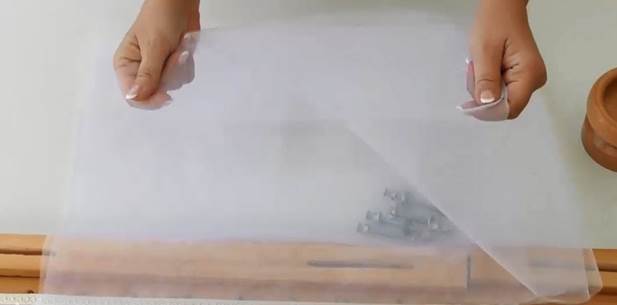 And finally, the most important tool is a frame. The fact is that only a very small fragment can be placed in a regular hoop, therefore, for large embroideries, you need to use a frame. There are great branded frames, but they are quite expensive. The frame is a very simple tool, it is easy to make it, using, for example, as I did, a whiteboard from the Ikea store. It is enough to drill several holes in the horizontal bars, at an equal distance from each other, and cut out the grooves on the vertical bars of the frame.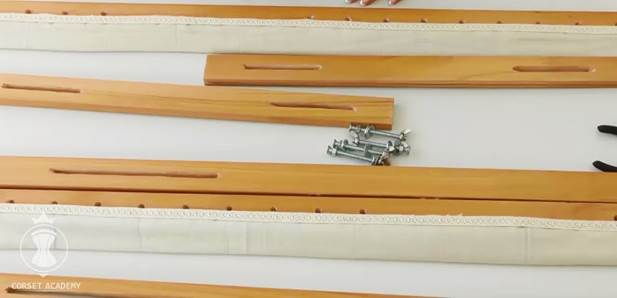 I made two sets of vertical bars, a short and a long one, and I can frame a piece of fabric 90 cm x 40 cm or 90 cm x 90 cm respectively. I recommend for the beginners to use narrower fabric pieces.
For better framing I stapled soft felt to the horizontal bars with a furniture staple. I will sew the mesh on the felt with coarse thread and start framing. I fix the bars with four wing screws.