Tutorial 6. Cutting the Dress and the Bodysuit.
We have prepared all patterns and we can start cutting the dress.
I spread the fabric over the table.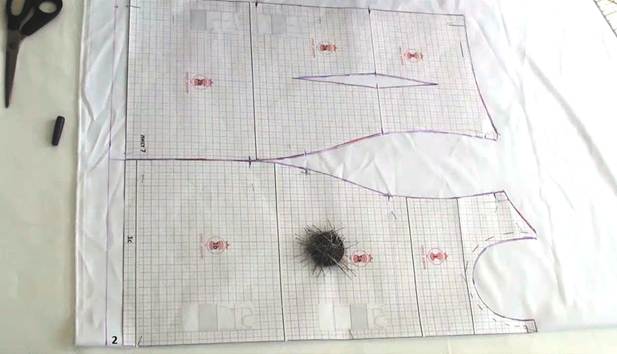 I will cut it crosswise, i.e. with the lengthwise grain parallel to the bottom raw edge and the shoot parallel to the fold line. I lay down the patterns and check their length and the required length of the skirt (40cm). I align the edge of the front piece with the fold line, place all patterns with their bottom edges parallel to the selvage, and pin them down. I add extra 2cm for turning up the hem. I am using just one layer of fabric since the function of the lining is performed by the bodysuit. 
I trace the contours of the pieces with a disappearing ink pen.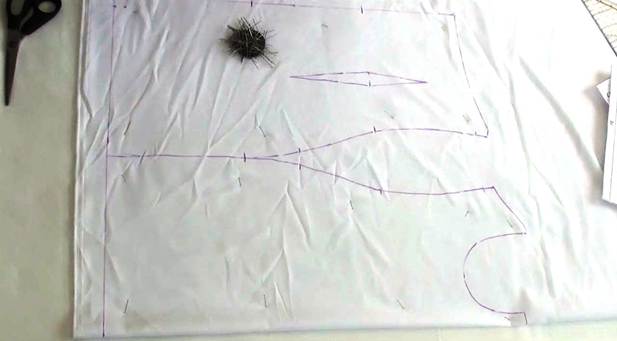 And I cut them all out and make notches. Don't forget the notch at the end of the zipper. Please note that I've cut a straight back. I always put the mock-up on the dress-form to mark a low back neckline.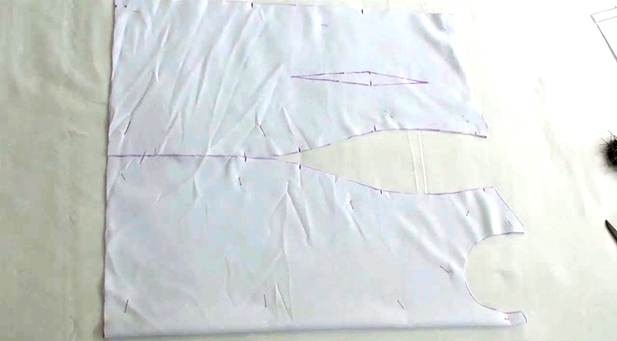 I transfer the dart onto the other half of the back.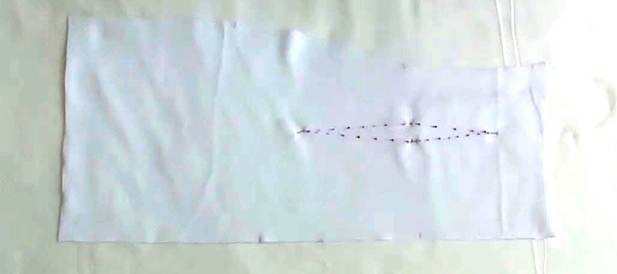 Let's cut the bodysuit now.
It doesn't matter where you cut the bodysuit lengthwise or crosswise since the mesh fabric is equally resilient in both directions. Think about fabric consumption and do it whichever way you prefer. 
I arrange the bodysuit pieces over the fabric that's folded in half. I trim the selvage to prevent it from pulling on the fabric. Then I transfer all notches including the zipper notch 20cm below the waistline and the crotch notches. 

I will cut out the crotch pieces later. By the way, you don't have to use the same fabric for them. Feel free to choose some elastic, knitted, or cotton fabric or go with the same mesh. In this particular case the crotch serves solely to secure the garment around the legs.
Now let me get ahead of myself and tell you there will be two zippers on our garment: one on the bodysuit and another on the dress. I have decided to use two zippers because the bodysuit is supposed to have a slimmer fit while the dress is meant to be a little looser. If I use a single zipper for the dress and the bodysuit, the dress will go askew. 
I outline the bodysuit pieces and cut them out.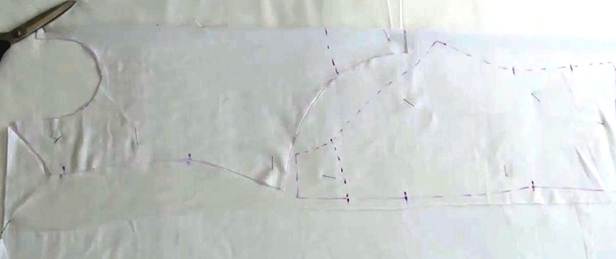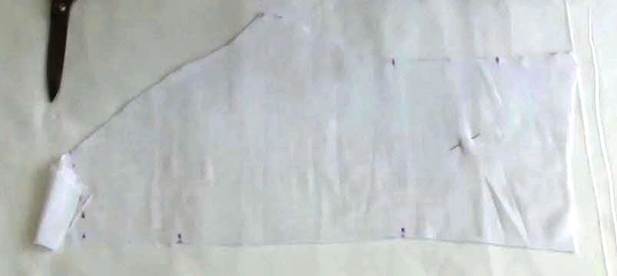 We have cut out all pieces of the dress and the bodysuit. 
Please remember that I'm making a very simple training sample. You can sew garments of numerous styles following the same principle and using resilient or non-resilient fabrics of different density. It would be impossible to embrace all possible styles within the framework of one teaching course so my task is to help you grasp the basics of sewing such garments.